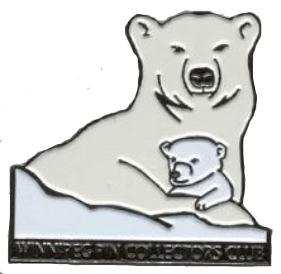 Price: $5.00 each
Actual size is 1 3/8th.  Lettering of "Winnipeg Pin Collectors Club" is silver on a black background. (While the lettering  does not show up well in the photograph, it does look great on the actual limited edition pin.)
Only 300 pins of each design will be made.
The second pin in the series that has been chosen is a mother snow leopard & her cub with a third pin being of an Asiatic lion and her two cubs.
As soon as these two pins are available for sale, we will post that information on this website and in our club newsletter.
Anyone wishing to purchase one or more pins of the above polar bear should please contact:
Ron Boily
16 Donald McClintock Bay,
Winnipeg, MB, Canada, R2G 3N3
Phone: 204-667-6811
Email: rjpboily@shaw.ca