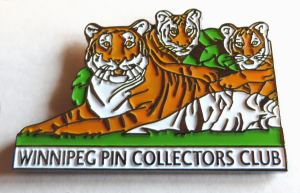 Siberian Tiger and Cubs
Price $5.00 each
Actual size: 1 3/8"
Only 300 of these pins were made.
Anyone wishing to purchase ANY of the ENDANGERED SPECIES PINS. including the latest (#5) should contact:
Ron Boily
16 Donald McClintock Bay, Winnipeg, MB R2G 3N3
Tel: 204-667-6811
Email: rjpboily@shaw.ca
 The sixth in the series will be an Asian Elephant and her baby.