Winnipeg Streetcar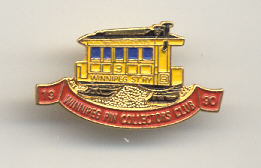 Winnipeg's first successful test of electric streetcar transportation was done in January 1891 along River Avenue.
In April 1892, Winnipeg Electric Street Railway Company was incorporated. In mid-July, 1892, they took delivery of streetcars #26 and 6 from the Ottawa manufacturer.
These first streetcars began their service between the CPR station and the Exhibition grounds. The regular fare at the time was five cents.
Street car service extended to various other parts of the city including Main Street southbound to Broadway.
Winnipeg General Power Company and Winnipeg Electric Street Railway (companies) merged in 1904. Sunday streetcar service was implemented in 1906.
During the winter of 1945/46 ridership reached an all time high of 105 million, a number that has never been surpassed since.
The last streetcar in service, #374, ended on September 19, 195