Golden Boy Statue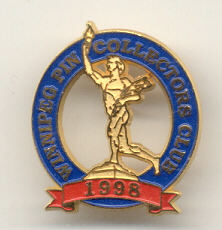 One of Manitoba's most recognizable symbols is the Golden Boy which sits atop our Legislative Building in the city of Winnipeg. The Golden Boy has become an internationally recognized symbol of Manitoba's achievements.
Set in place in 1919, the graceful statue carries a sheaf of grain symbolizing the fruits of labor.
The torch, held high above his head as he strides forwards, calls on the youth of Manitoba to join in the pursuit and building of a more propserous future.
The Golden Both faces north, looking towards Manitoba's rich natural resources in mining, fishing, forestry and hydroelectricity.
In 2002, the 17-foot (5.25 metre) 3,640 pound (1,650 kilogram) provincial symbol was removed from the dome of the Legislative building after it was determined a support post was corroded.
The$1.1 million restoration included gilding and was completed in the fall of 2002.