by Geoff Kirbyson
Winnipeg Free Press 
March 24, 2009 
Dan Aykroyd hits town to promote his wines
There's something about hanging out with Dan Aykroyd that takes you back to a simpler time. It could be his motorcycle-style black leather jacket, or perhaps it's the twinkle in his eye as he regales you with a hilarious story that may or may not be fit for print. Or maybe, just maybe, it's the downing shots of tequila at nine o'clock in the morning.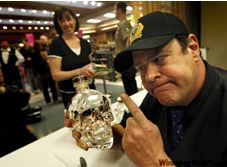 Seconds after Free Press multimedia editor Tyler Walsh and I entered the Velvet Glove lounge at the Fairmont Hotel Monday morning — Aykroyd dubbed it "The Velvet Hammer" — the Saturday Night Live alumnus asked the bartender for a trio of glasses with ice. He quickly spun the cap off a bottle of Patron XO Cafe, which is coffee liqueur made with tequila, and deftly poured a generous shot into each. "Charge it to my room," he instructed the bartender, then raised his glass. "We won't say what time it is, will we? Although, it has coffee in it, so we can drink it in the morning. It's the double buzz, tequila and coffee. It keeps the party going, I can tell you." It, um, wasn't the first time any of us had slammed back a drink while our breakfast was still digesting. But after Aykroyd gave us the thumbs-up to imbibe at the start of the work day, who were we to refuse? (For the record, it was delicious.)
Aykroyd kicked off his two-day promotional tour for the wines that bear his name as well as Patron tequila and Crystal Head vodka, both of which are distributed in Canada by one of his companies. He said he first developed a passion for wine after attending a "Purple Jesus" party in college. "For $5, you could drink a galvanized bucket of Manischewitz, along with 1,000 other students in an auditorium. We would find ourselves by the (Rideau) Canal in Ottawa the next morning, praying to Jesus and saying, 'Please, I'll never drink again. And why is my tongue purple?'"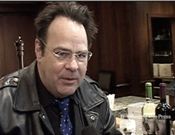 After he became an actor and moved to California, he was invited to a party during the filming of The Blues Brothers movie at bandmate Steve Cropper's house. "He had us over one Friday night for a burger fest, he popped open his wine cellar and I got ruined for life. He turned me on to the Napa (Valley) Cabernets and some of the Bordeaux he had been collecting," he said. Aykroyd is more than just the name on the bottle of Dan Aykroyd Wines. While he doesn't stomp on grapes in the bathtub with his bare feet, he's a stakeholder in the Niagara, Ont. vineyard where the wines are produced, he licenses the wines for a royalty and he's actively involved in vetting the final product. "Every production run has samples and I have to taste them. I'm quite strict on that. They send them to me and me and my dad try them out," he said.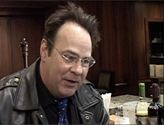 Aykroyd's popularity on the small and large screens spilled over into a pair of local liquor marts Monday. About 500 people crammed into the Madison Square store in the morning and several hundred more did the same at Grant Park Shopping Centre in the afternoon. Ron Boily was first in line at Grant Park, having queued up 90 minutes before Aykroyd's scheduled 3 p.m. appearance. His purpose was twofold: to get a signature on a bottle of the Cabernet Shiraz and to present Aykroyd with a gift, a pin of the globe with a red star designating Winnipeg. "I'm a big fan of his," said the president of the Winnipeg Pin Collectors' Club, rhyming off The Blues Brothers, SNL and The Arrow. He also had a pin of Elvis on his lapel. What if Aykroyd would like that one, too, he was asked? "I'll trade it for a bottle of wine," Boily said with a laugh. Two people behind was Marilyn Gessell. In addition to a DVD of Trading Places and two bottles of Crystal Head, she brandished a beaten-up VHS version of Ghostbusters, which came out in 1985. "My kids grew up with that movie. They had the toy cars and the backpacks with squirt guns. (Meeting Aykroyd) brings back a lot of happy memories," she said.