The MTS Pan Am Trading Pin Centre – A collectors' Paradise
By Holli Moncrieff / Photo: Doug Dealey
STYLE MANITOBA magazine
Summer, 1999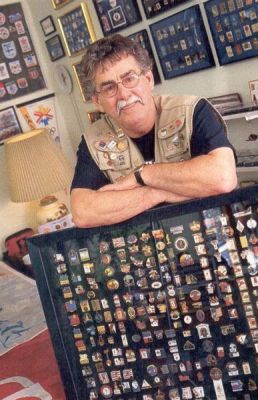 Ivan LeBlanc won't mind if you call him a pinhead. In fact, he'll consider it a compliment. Pinhead is actually another name for people like LeBlanc, who collect lapel pins from all over the world. The term was first used during the 1980 Lake Placlid Olympic Games, when collectors covered their headgear with pins. 
Wearing pins on a hat has become a symbol of being willing to trade. 
"It's my own personal hobby. I used to travel quite a bit, and wherever I went, I would pick up a pin," he explains. "I find their colours and designs very interesting." 
This year's Pan Am Games promises to be pin trading heaven. Following the success of their first pin trading centre at the 1997 Canada Games in Brandon, MTS will host a centre at the Forks throughout the Pam Am Games.
Wayne Wilson, the executive director of community relations for MTS, predicts the new centre will be a huge success.
"We expect to see as many as ten thousand people going through each day," he enthustically notes. "This is a phenomena that has to be viewed to understand it – I'm amazed at how popular it is."
During the sporting events, many corporations countries and sport organizations have special limited edition pins developed. These pins are sought after by collectors, who come to pin trading centres to swap pins, talk shop, and meet other collectors.
It's wonderful – just a great thing, and a good place to meet," says LeBlanc. "We usually never see each other face to face, so this will give us a chance to meet in person."
It will also give MTS the chance to introduce their prepaid calling cards as collectible items. Special cards will be developed in the coming months with a Pan-Am design.
"Prepaid cards are really very popular in Europe among serious traders," Wilson explains. "They're just so convenient that they're often given as gifts over there. They just haven't caught on over here yet to the same extent."
Wilson saw the success of pin trading centres first hand during the 1997 Canada Games. "The largest crowds of all were around the pin trading centre, watching the pinheads in action," he recalls. "Pinheads go to sporting events like this just to collect."
Besides the ability to trade, a wide variety of new Pan Am pins will be on sales, most for about $5 each. A new pin will be released every day of the games in limited numbers. Most pinheads will arrive at the centre super early just to make sure they get their hands on each one.
"We'll have pins that will appeal to everyone's taste. It's worth going there to see them," Wilson enthuses.
LeBlanc, a member of the Winnipeg Pin Club, cherishes his Canadian National Olympic Committee pin from the 1936 Olympics in Munich, Germany. "It's a bit of a challenge to get the pins you want," he admits. You couldn't just go and purchase the pins you want outright because it would cost you a fortune."
Wilson has his own theory on the popularity of collecting pins. "All of those who attend these types of events want something tangible from them that they can hold in their hands," he says. "Pins are a wonderful refresher of a good memory."
MTS will also use the centre to reach out to the community and showcase some of their latest technology. "The Pam Am Games are a great opportunity for Winnipeg – we love to host people in our city," notes Wilson. "This is something the city needs to renew its energy, vigor, and its belief in itself. When this is over, we're going to feel pretty good about ourselves and our city," he comments, adding that pin trading is a great way to meet people from all over the world. "Anything that provides a meeting place and memorabilia is a valuable addition to this type of event."
Instead of buying a lottery ticket during the Games, you might want to keep your eyes peeled for priceless pins, but there are some things you should know before joining the ranks of the pinheads. MTS recommends that you become knowledgeable in the hobby. Learn all you can about the value and availability of specific pins. You should know how to spot a fake, what a pin's current value is, and how they have been produced.
It is also a good idea for novice collectors to narrow their focus. beginners often have the urge to gather as many pins as possible. This is a great way to amass a big collection, but could become expensive and frustrating, as getting every pin from the Pan Am Games will be extremely difficult. Instead, collectors should seek out the pins that suit their tastes and interests to create a personal collection that will reflect their own Pan Am Games experience.