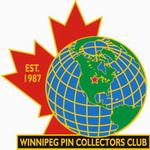 The WPCC Logo Pin.
Available for sale at $5.00 each.
Please support our club with the purchase of this fundraiser pin.
All individual pins available for sale unless otherwise specified.
The majority of our club pins have been produced by Laurie Artiss of Regina. The company has an international reputation for quality and excellence. Please click here for a link to the Laurie Artiss company web site.
Partial set of pins with four missing but including LOGO pin is $93.00.
Please contact us for pin availability.