Paddlewheel Queen River Boat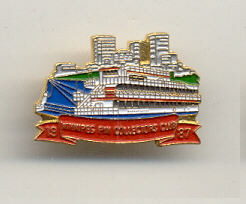 One of three river boats that sail through the heart of Winnipeg, the image of the Paddlewheel Queen was selected for our first club pin in 1987.
These boats offer afternoon sight-seeing and evening dinner/dance cruises from May to September up and down the Red River.
The paddleboats are very popular to city folk and visitors alike.  They set out from the Alexander Docks in Winnipeg.
This pin is only sold in part of set club pins.