Red River Cart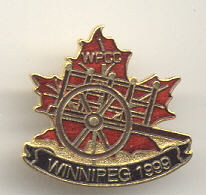 Heavy 2-wheeled wagons known as Red River Carts were first brought West by Canadian settlers.
An important part of the fur trade and the companion pemmican trade, they were ultimately replaced in the late 1800s by steamboats and railways.
Replicas of the Red River Cart were used to launch the INDIGENOUS GAMES held in Winnipeg July 25 – August 4 in the year 2002.